Vortech Low-pressure, swirling vortex cleaning equipment
Where has it been used?
"We have always found Jamie and others in the Restorative Techniques office extremely helpful in the support and guidance they offer and a pleasure to work with"

Emma Norris

Humphries & Jones
A modular approach to design
The VorTech systems comprise four parts: The air cooler, to cool the incoming pressurised supply.
The pressure pot, which serves as the reservoir for the granulate abrasive. The air powered water pump, which pumps a medium pressure supply of water to the nozzle and the hose set, to deliver the pressurised abrasive mixture to the area being cleaned.
Hose Set
A standard hose set is of 20m length, which ordinarily provides enough range from the pressure pot for most sites, whilst being short enough to pack away and transport more easily. The hoses are set up in such a way as to provide instantaneous start up and shut down, which sets us apart from the 3-5 second delay exhibited by earlier Jos-type systems.
Air powered water pump
The water pump can be fed from a standard hosepipe, or draw its own supply from a static water source. It hangs on the pressure pot and performs two main functions. Firstly to combine with the air/abrasive mixture, which minimises dust production and flushes the surface pores of the substrate whilst cleaning. Secondly, via a separate wash down nozzle, the freshly cleaned area can be rinsed free of debris.
Air cooler / after cooler
The air cooler is provided to cool and dehumidify the incoming air from the compressor. It has an automatic water trap, which will periodically dump water condensed in the cooler. The amount of water released is dependent on atmospheric conditions daily.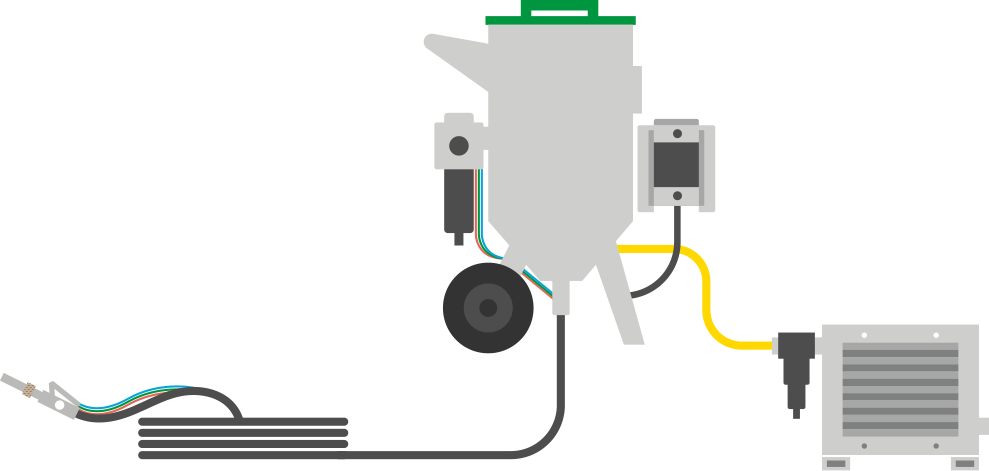 User Friendly Design
Instant start / shut down.
Lightweight, maintenance-free water pump, which hangs on the pressure pot for portability.
Lightweight, aluminium nozzle housings.
Multiple power options available for running the air cooler.
More compact air cooler with carry handle.
Miniature, palm-sized remote controls as an option.
Easy-fill, self-sealing pressure pot.
Colour-coded air lines with 'no-mistakes' connections.
Key Technical Details
Remote pressure adjustment as standard on hose sets.
Remote granulate adjustment available as an optional extra.
Motor options available for Air Cooler: 230v, 110v, 24v or 12v.
Twin condensing chambers within air cooler unit.
High-flow, low-wear pneumatics are capable of achieving 140 cfm (cubic feet per minute) air flow, which means that large-scale areas of simple profile can be can be cleaned productively without sacrificing sensitivity at low pressure settings.
Removable stator allows for a more aggressive clean, where the substrate allows: i.e. Steel, Cast Iron etc.
'Bypassable' water pump for dry blasting applications.
Working pressure range of 0.5 – 8.0 Bar permits a wider spectrum of usage, from fine detail to large-scale elevation cleaning.
Environmentally responsible production processes mean little to no non-recyclable waste is produced and 95% of the system is fully recyclable at the end of the machine's life cycle.
The system is not limited to the Heritage and Restoration industry - it is capable of operating with a wide range of abrasives and blast media used in many other industries.